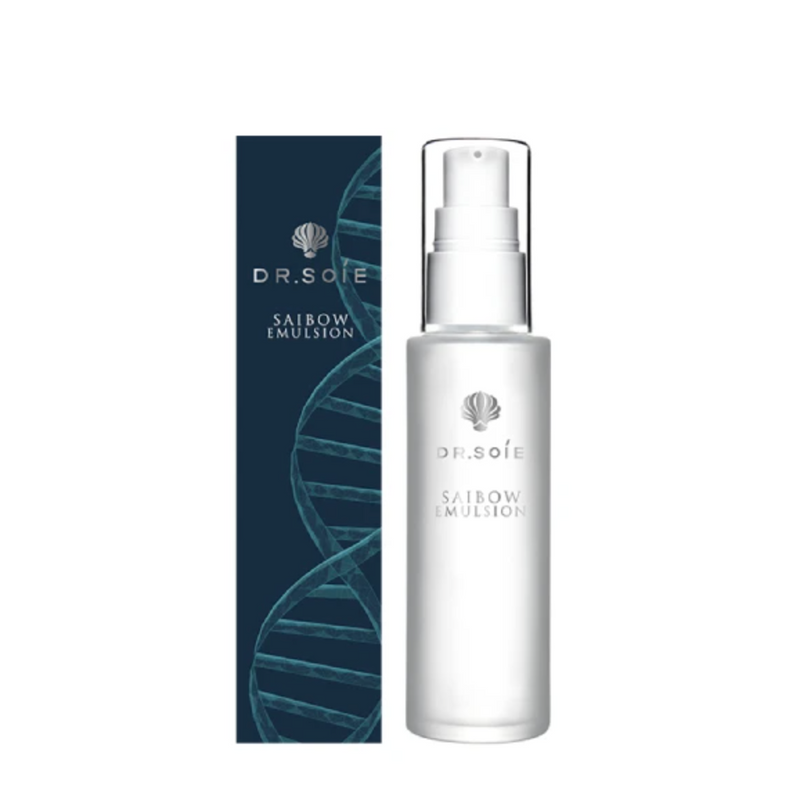 Bare Japan
AMARANTH Saibow Emulsion
What it is:
Milky face emulsion which is a very light cream with new generation anti-aging ingredients focusing on skin regeneration and cell renewal. Has a high concentration of antioxidants and improves the elasticity of the skin. Provides deep hydration even to very dry and dehydrated skin, and reduces fine lines and enlarged pores.
Suitable for:
Suitable for all skin types.
Highlighted Ingredients:
DMAE  is one of the essential fatty acids that improve skin firmness and elasticity. DMAE (Dimethylethanolamine) works like acetylcholine to firm the skin. The tightening and firming effect of DMAE has been verified in clinical trials and helps to prevent both sagging and drooping of the muscles under the skin.
Carnosine is a peptide with antioxidant function that helps to reduce the appearance of wrinkles and improves skin tone and texture. Carnosine in skin care can combat signs of aging by preventing cross-linking of collagen and other proteins which can cause a loss of elasticity.
The combination of growth factors  EGF, human stem cells, and plant stem cells promotes the rapid regeneration of skin tissue and the return of elasticity by stimulating fibroblasts to produce protein. 
AC-11 is a unique substance derived from the Uncaria plant found in the rainforest of the Amazon.  The substance acts as a catalyst for the process of repairing damaged DNA. It is the only such ingredient recognized by the FDA (Food and Drug Administration).  
Sage and Peony extracts soothe the skin, even out the skin tone, and nourish the skin with antioxidants. 
Persimmon tannins brighten the skin, reduce pigmentation and acne scars. 
How to use:
After cleansing and applying lotion, apply 1-2 pumps of the emulsion all over the face, neck and décolleté. 
Volume:
50 ml
About The Brand
Dr. Soie is a luxurious and innovative anti-aging cosmetic brand created by Hiroo Prime Dermatology Clinic. They have been operating successfully in Japan for over 15 years. This brand bases its skincare on clinical research done by highly experienced dermatologists. The Amaranth line combines the advanced components of Japanese cosmetology – DMAE, stem cells, carnosine, fullerene, and APPS (vitamin C). There are no additives in the formulations, all products are mild and are suitable for sensitive skin.
Ingredients 

Ingredients:
Water, Caprylic/Capric Triglyceride, Glycerin, Pentylene glycol, Glyceryl stearate, Glyceryl glucoside, Polyglyceryl-10 stearate, Dimethylaminoethanol tartrate, Human oligopeptide-1, Uncaria extract, Conditioned human adipocyte extract, Capryloyl dipeptide-17, Hydrolyzed royal jelly protein, Bis glyceryl ascorbic acid, Succinic acid 2Na, Ammonium glycyrrhizinate, Lespedeza extract, Niacinamide, persimmon tannin, Retinol palmitate, Sage leaf extract, Tocopheryl acetate, Carnosic acid, Peony flower extract, Clove extract, Polyisobutene, Glyceryl capril, Argan oil, Peanut oil, Capryl glycol, Shea butter, Polyglycerin-10, Laureth-7, Polysorbate 80, Polyglyceryl laurate-10, Hydrogenated Lecithin, Lecithin, Polyacrylamide, Lactic Acid, 1,2-hexanediol.