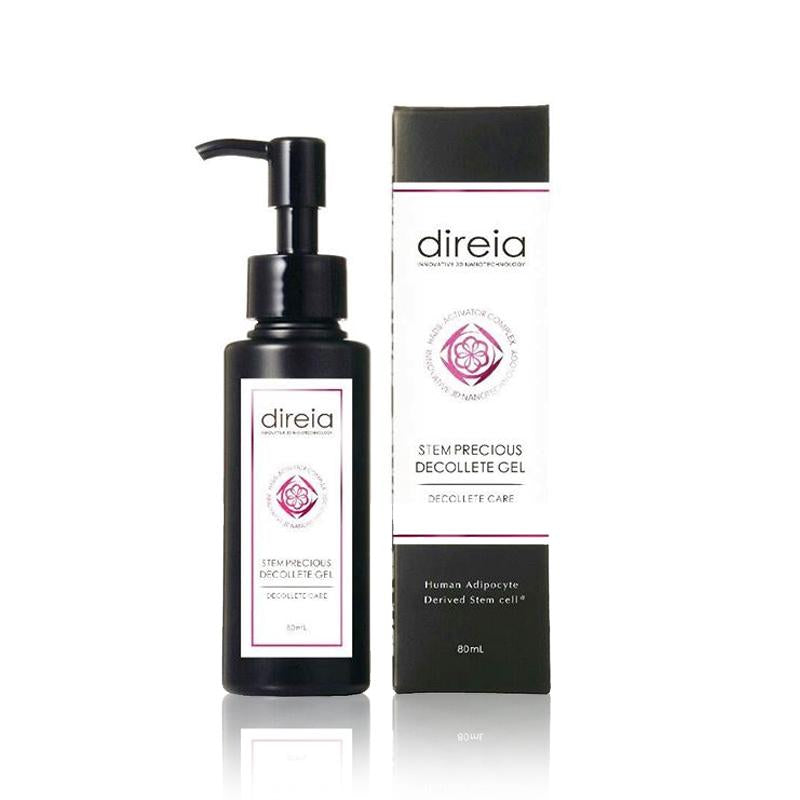 Bare Japan
DIREIA Stem Precious Decollete Gel
What it is:
Gel for the chest that makes the skin elastic and smooth with an anti-aging effect, tissue moistening effect, breast contour lifting and promotes an increase in breast volume due to the redistribution of fat cells. Easily absorbed and not greasy so it does not stain clothes.
Suitable for:
Mature skin and also after weight fluctuations, after sunbathing, and for therapeutic massage. 
Highlighted ingredients:
HADS-ACTIVATOR complex is an extract of human stem cells and several peptides combined into a special structure that penetrates the level of the dermis and causes a response in skin cells, stimulating the activity of its own regeneration resources.
Adipophilin, ornithine, and volufiline from vegetable raw materials - these components activate the redistribution and accumulation of lipids in the subcutaneous tissue. This makes the chest more visually full.
Hyaluronic acid, extracts of jojoba, ginseng, and camellia seeds - moisturizing effect on the skin.
VITA-HA - a vitamin C derivative that suppresses inflammatory processes and pigmentation.
Extract ADSC-CM - highly functional biological material that prevents aging and skin damage and promotes tissue regeneration. 
PROLIPHIX-F4 - strengthens fibroblast proliferation and collagen production.
Without alcohol, parabens, silicones and mineral oils.
How to use:
Apply 2 peas of the gel on the neckline with circular massage movements. Suitable for everyday use. For salon and home use.
What it smells like:
Delicate unobtrusive aroma
Volume:
80 ml
About the brand
DIREIA is a professional brand of Japanese cosmetics, using the latest technologies in the beauty industry. The brand uses patented unique innovative 3D nanotechnology technology for ultra-deep penetration of nutrients into the layers of the epidermis.
The Cosmetic line Direia has an impact at the cellular level. It consists of more than 200 types of growth factors and physiologically active substances that work on cell activation.
Thanks to the SC-Signaling system, the active components of the series act precisely on those cells whose work is impaired, stimulating their activity. Cosmetics Direia - is the pinnacle of Japanese technology in the field of anti-aging cosmeceuticals. The effectiveness of the line is confirmed by scientific data. The series includes 9 types of growth factors (EGF, aFGF, bFGF, KGF / FGF-7, VEGF, TGF-β, IGF-I, PDGF, HGF). The Stem line is designed specifically for beauty salons, but also suitable for home use. Manufactured in a laboratory that has acquired ECOCERT certification.
Ingredients
Human stem cell extract, Peptides and Proteins, Hyaluronic acid, Ornithine, Jojoba and Camellia extracts, Adipophilin, Volufiline.